Services.
Digital Advertising.
High Performance Digital Marketing.
Let's talk about your digital marketing strategy. Everything starts there. We will help you organize and budget your strategy to promote and sell your products or services. Content marketing, social media, blogs, email and newsletter campaigns or improving your search engine optimization (SEO) and search rankings, Hallaron can pull it all together to generate new inbound leads and increase your sales.
Website planning, design, and development

Creative and art direction

E-commerce, online shopping

Landing pages, lead capture

Live Chat

CRM and form integration

Photography and video production
Social Media management

SEO On-page/off-page

Content marketing

Blogs, press releases

Technical writing

Website copywriting

Word Press
Target your customers with the latest digital advertising
Hallaron can serve your ads, videos and commercials to your best customers using TV, desktop, tablet, and mobile. Hallaron uses programmatic advertising tools including, AI, behavioral data and geographic targeting to serve your ads across the country, the state, or down to the local level within individual zip codes. And we can target B2C buyers and shoppers or niche B2B audiences. We provide ongoing measurement of campaign success and full campaign reporting.
Reach the customers you need to grow your business!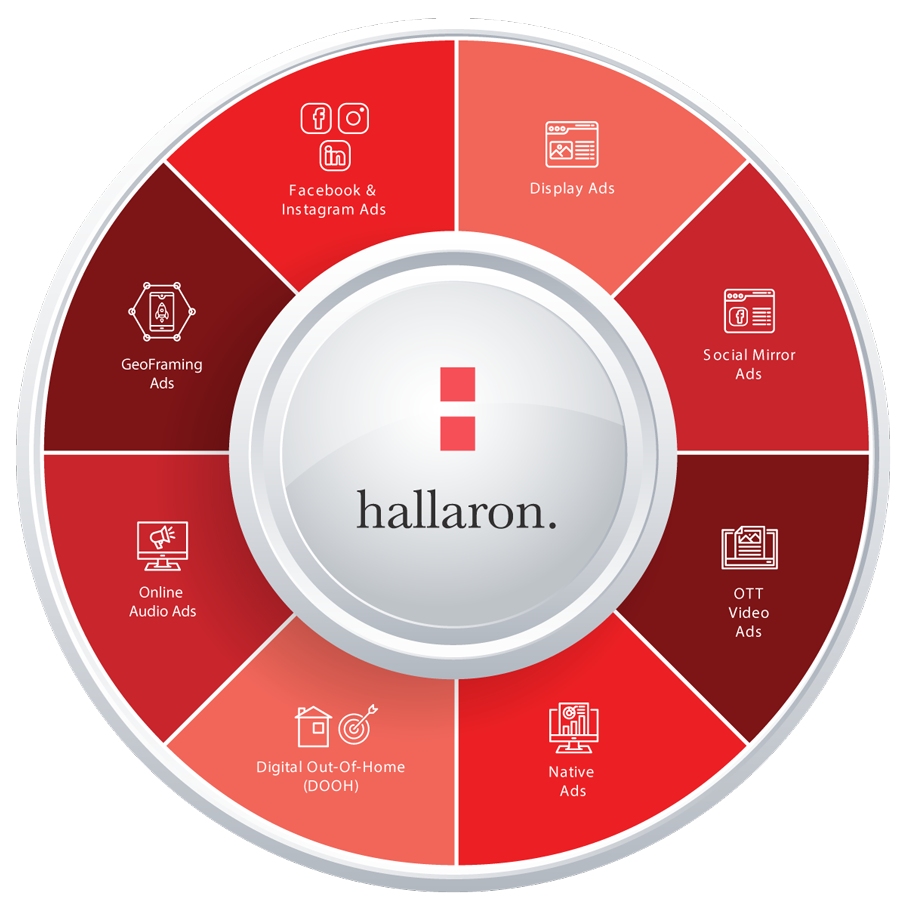 Sophisticated Digital Platforms
Your Digital Advertising Goals.
After listening to your problems and expectations, we will prepare a customized proposal for your new digital advertising strategy and media plan. Depending on your strategy, resources, and budget, Hallaron will combine creative, SEO, PPC, traditional and digital media, content marketing, social media, PR and more to create a POWERFUL marketing blitz.
Companies that understand this integrated multichannel approach enjoy higher brand awareness, better perception of their brand and products, more targeted traffic, increased leads, and, you guessed it…higher sales.