Services.
Digital Advertising.
We're keeping good company.
Hallaron Advertising Agency partners with VICI Media in Philadelphia, PA. VICI is Hallaron's digital marketing arm with a wealth of media experience from national campaigns to local, geo-targeted ads targeting individual IP addresses. VICI works with 200 other ad agencies besides Hallaron and their digital media work has earned them awards including Deloitte's Fast 500 as one of the fastest growing tech companies in North America.
Website planning, design, and development

E-commerce, landing pages, and corporate sites

Live Chat

Video Ads

Display Ad Campaigns

Social Mirror Ads

Pay-Per-Click Ads
Facebook, Instagram and LinkedIn Ads

Native Ads

Geo-Framing Ads

SEO & Reputation Management

Mobile Conquesting Ads

Online Audio Ads

Amazon Targeting Ads

IP Targeting Ads
Target your customers with the latest digital advertising
Get your message in front of customers using TV, desktop, tablet, and mobile.  Hallaron uses AI, behavioral data and geographic targeting to serve your ads across the state and down to granular neighborhood audiences. Reach the customers you need to grow your business!
Learn more about Digital Advertising Platforms offered.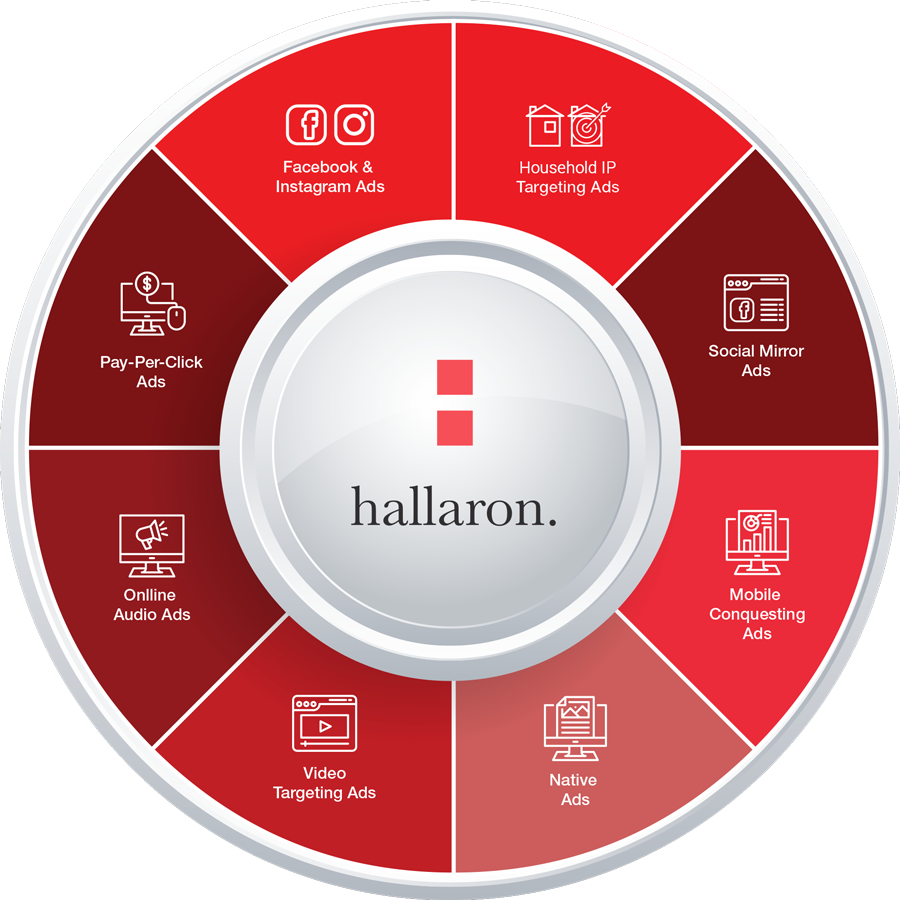 Sophisticated Digital Platforms
Goals.
After listening to your problems and expectations, we will prepare a customized proposal for your new advertising strategy and media plan. Depending on your strategy, resources, and budget, Hallaron Advertising Agency will combine creative, SEO, PPC, display, video, traditional and digital media, content marketing, social media, PR and more to create a POWERFUL marketing blitz. Companies that understand this multi-channel approach enjoy higher awareness, better perception of their brand and products, more targeted traffic, increased leads, and, you guessed it…higher sales.