"Everything is design" and The World According to Paul Rand

Twenty years ago in New York I had the chance to visit an exhibit of Paul Rand's commercial design work at the Museum of the City of New York. It was my introduction to this titan of corporate logos and advertising design. An American art director and graphic designer Rand is best known for his corporate logo designs, including his creations for IBM, UPS, Enron, Cummins, Westinghouse, and ABC.
Rand is also often credited with saying "Everything is design." This is his belief and his perspective on the pervasive nature of design in our daily lives and how design decisions shape nearly everything around us. Let's breakdown this famous adage:
Design is Everywhere: Rand emphasizes that design isn't limited to the traditional understanding of graphics, products, or architecture. Instead, he believed that design is present in every aspect of human existence. From the layout of a book to the shape of a chair, from the user interface of a website to the way a city is planned, design decisions are embedded in our material surroundings.
Aesthetic and Function: Design isn't just about making things look good; it's also about making them work effectively. Design often seeks a balance between aesthetics and functionality. Rand's statement underscores that whether something is aesthetically pleasing or not, there's always some level of design involved. Form follows function.
Impact on User Experience: Design influences how people interact with and perceive the world around them. From the design of a doorknob to the layout of a website, these decisions affect usability, accessibility, and human satisfaction. Even subtle design choices can have a significant impact on our experiences.
Attention to Detail: The greatest designs often involve meticulous attention to detail. Rand reminds us that even the smallest elements can be intentionally designed to create a cohesive and meaningful whole.
In essence, "Everything is design" reflects Paul Rand's belief that design is not limited to a specific field or profession but is an integral part of our daily lives, shaping our experiences and surroundings in both obvious and subtle ways.

Paul Rand at IBM Offices
Modernist Master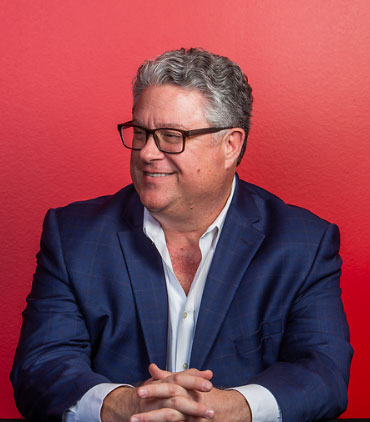 About Hallaron Advertising Agency
Mike Hallaron is founder and principal partner and has served as director of accounts at Hallaron Advertising Agency in The Woodlands, Texas since 2003. The agency works closely with clients supplying branding and advertising strategy and implementing effective, award-winning campaigns. More than just an idea shop, Hallaron is a full-service agency focused on increasing client's sales using branding, marketing, and media services.
(281) 299-0538
2001 Timberloch Place, Suite 500
The Woodlands, Texas 77380