Services.
Social Media Marketing.
Social Media Marketing for Grown Ups.
Forget the nonsense and all of the hype about social media.
In today's digital landscape, social media is no longer a mere optional marketing tool; it has become an essential lifeline for serious businesses looking to thrive and outshine competitors. The Hallaron Agency can make sense out of your social media.
We will craft your social media strategy and show you how to showcase your brand personality, build trust, and engage in real-time conversations with customers, nurturing meaningful relationships that create more leads and sales.
Moreover, social media offers valuable insights through data analytics, enabling your company to make informed decisions and tailor your strategy to meet customer preferences accurately. From lead generation and increased website traffic to heightened brand awareness and enhanced customer loyalty, the benefits of leveraging social media are undeniable.
In today's fast-paced, hyper-connected world, embracing social media is not just a choice but a strategic necessity for any serious business aiming to achieve sustainable growth and more sales.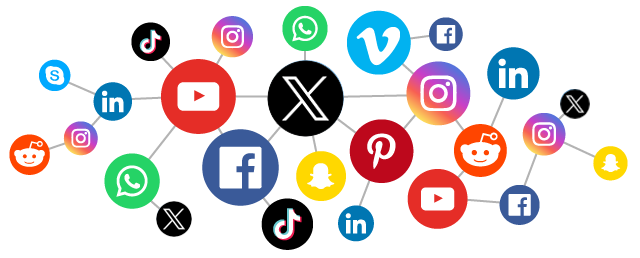 Real, measurable results with Hallaron's cutting-edge Social Media Marketing service.
Experience unparalleled business growth as we craft powerful social media strategies tailored to your specific goals. From expanding your reach to engaging with the right audience, our experts know how to drive measurable results that lead to increased sales and revenue.
Our social media team understands what it takes to stand out in the digital landscape. We curate innovative and eye-catching content that captivates your target customers, creating a brand presence that resonates and drives conversions.
Say adios to guesswork! We pride ourselves on our data-driven approach to social media marketing. By closely analyzing the metrics that matter most, we fine-tune your campaigns for maximum efficiency, ensuring every dollar you invest delivers tangible returns.
Connecting with your audience is just the beginning. Our strategies go beyond simple interactions; we foster meaningful relationships that turn followers into loyal customers. Prepare to be amazed as your social media channels become thriving hubs for engagement and sales.
In the ever-evolving world of social media, stagnation is not an option. Our team is committed to keeping your branded social media channels ahead of the curve, constantly optimizing your campaigns to seize new opportunities and navigating potential challenges.
Ready to witness the power of data-backed social media strategies? Get in touch today and let's discuss how we can supercharge your business growth and drive more sales!
#SocialMediaMarketing #BusinessGrowth #RealResults #MeasurableSuccess #DigitalMarketing #SocialMediaSuccess