Hallaron Advertising Agency Named Finalist for Business Journal's Fast 100 List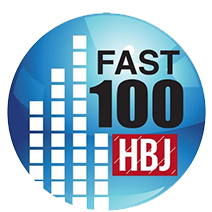 Hallaron Advertising Agency, based in The Woodlands, has been named a finalist for the Houston Business Journal's 2019 Fast 100 & Innovation Awards. The annual honor recognizes 100 Houston-area companies with the fastest revenue growth for the past year. The journal's Publisher, Bob Charlet, and Editor-in-Chief, Giselle Greenwood, recently sent out notes of congratulations to Hallaron and other finalists.
Finalists will be ranked numerically according to revenue growth over the past fiscal year. Qualification criteria mandate that to be included on the list, companies must be privately held businesses with headquarters in the Houston area. They also must have been in operation for at least five years.
Hallaron Advertising Agency was founded in 2003 and has grown in size and service offerings over the years. The agency now draws upon the talents of nearly 20 team members including strategists, operations managers, client services professionals, and creative and digital artists. The agency is best known for its "Ignite™" brand marketing methodology, a strategic diagnostic process for understanding clients' strengths and challenges, as well as their particular industry climate and conventions. The Ignite™ process leverages stakeholder surveys, interviews, primary and secondary industry research, and in-house workshops to shape client strategy before creative work begins.
Principal and founder Mike Hallaron said, "I would like to thank our clients and our agency team. The trust our clients place in us makes all our success possible. And our fantastic team is responsible for helping our agency grow to the point where we can be included on this prestigious Fast 100 list." Hallaron also expressed his congratulations to other finalists for this year's award, including MMI Agency.
The Houston Business Journal will reveal the final rankings onstage at the Fast 100 & Innovation Awards Luncheon on September 26 at the Marriott Marquis.
About Hallaron Advertising Agency
Hallaron is a full-service advertising agency located in The Woodlands, Texas. The agency has an experienced strategic team and a skilled, agile creative team working together to craft new advertising campaigns, build brands, streamline marketing communications, develop websites, and implement strategies that translate into real growth for its clients.
(281) 299-0538
2002 Timberloch Place, Suite 420
The Woodlands, Texas 77380