What are Social Mirror ads?
It can be difficult to decide which social media channels to advertise on. Are you good on Facebook and Instagram or do you need to be on TikTok and Snapchat as well? What about LinkedIn and Pinterest or is that spreading the budget and audience too thin? How do you do all the things?
Social Mirror ads mimic the look and feel of top social media platforms however, the ads appear not on the social platforms, but on thousands of other websites and apps and run across all devices. Each ad links back to the social platform it is mirroring and, has a second call to action button that links to the advertiser's website! Ads contain unique social actions related back to the originating platform (for example, the like icon, the heart icon, the pinning icon, the retweet icon… those actions are available). These ads can integrate with all the major social media platforms: Facebook, Instagram, Twitter, Linked In, Pinterest, TikTok, Snapchat, and YouTube. Creatively, ads can be display, video or carousel.
Mind blown!
To break this down into even simpler terms, here is a basic definition of Social Mirror ads:
Social Mirror ads look like your social media display or video posts but appear on other websites and apps, linking back to the social media platform and your website, and run across all devices using our targeting strategies.
So how does this work? It is brilliantly simple, as easy as posting!
Step 1
Create a social post and provide us with the URL of that post. Like this example here of a Tweet on Twitter from Yankee Candle: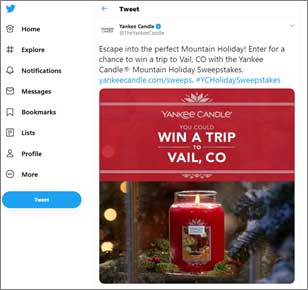 Now Step 2
Enhance it with additional call to action opportunities.

We take your post and create it as an ad – that looks just like (and links to) your social post – and run it across thousands of websites and apps!
The best part is the ad has three call-to-action opportunities:
Clicks on the Social Media logo and your profile image, take the users to your Social Media business page.
Clicks on the Call-To-Action button take the users to your website.
Clicks on the Social Media icons below the ad take you to that post on your Social Media page.
On the visual above, if you click on the upper right hand corner on the Twitter icon it takes you to the Twitter business pages (this is the same for all the social icons except for the Snapchat icon – that goes to "add me" as a friend since you can't socially post). The Call-To-Action button, in the case above the "Learn More" button goes to the advertiser's website and landing page of choice. The social action icons below the CTA go to the specific post and allow the user to complete additional actions (like, share etc.).
To show return on investment, we report the total number of all the various clicks on the ad in your monthly report.
With Social Mirror ads we are NOT running the ad on the social media platform, notice in the example above, the ad is not on Twitter, it is on the website Business Insider. What we are doing, is "mirroring" the EXACT look of your social post as an ad that runs on thousands of OTHER websites and apps, targeting just to the people you want to reach, across all devices.
The ads can be display, video or even carousel depending on the social platform so creatively there is a tremendous amount of flexibility. Static, video, carousel can be run for most (Facebook, LinkedIn, Instagram), although some ad platforms, like Snapchat, users would only expect a video or static ad, not a carousel. TikTok and YouTube users may expect a video, since it's a video platform.
Social Mirror ads can be done with any organic or paid posts from your business account on these eight social media platforms:
So how are these ads targeted? As always, we start with the geographic area. You tell us the geographic area you want to reach, and then we layer in targeting strategies like Behavioral Targeting, Keyword Targeting, Artificial Intelligence (AI) Targeting and this also works with Retargeting as well.
Behavioral Categories – Showing your Social Mirror ads to specific consumers based on their previous on-line behavior, across all devices.
Keywords – Showing your Social Mirror ads on webpages and apps that contain keywords related to your business, across all devices.
Artificial Intelligence (AI) – Showing your Social Mirror ads to people using machine learning to target consumers based on who is engaging with the ad, across all devices.
– Retargeting – Following people after they leave your website and showing them your Social Mirror ad, on other websites and apps they go to, across all devices.
Here is an example of what a social mirror ad might look like in the wild, using our keyword strategy:
We can also use Mobile Conquesting Cross Device Targeting to follow people who have been served a Mobile Conquesting ad, a Social Mirror ad when they go onto all their different devices.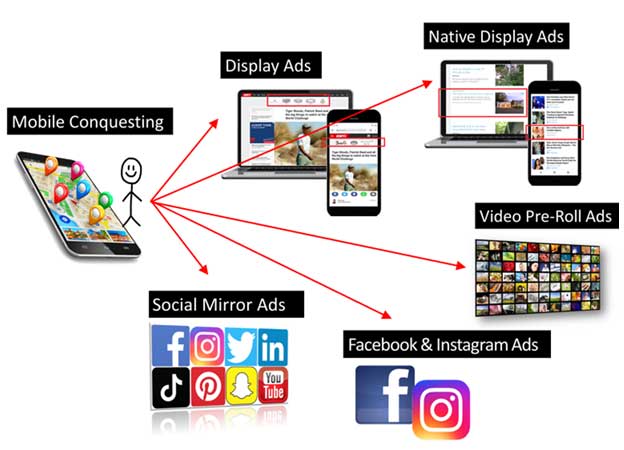 Now as for results, the average click thru rate (CTR) for a social mirror ad is .49% which is 7x higher than the national average.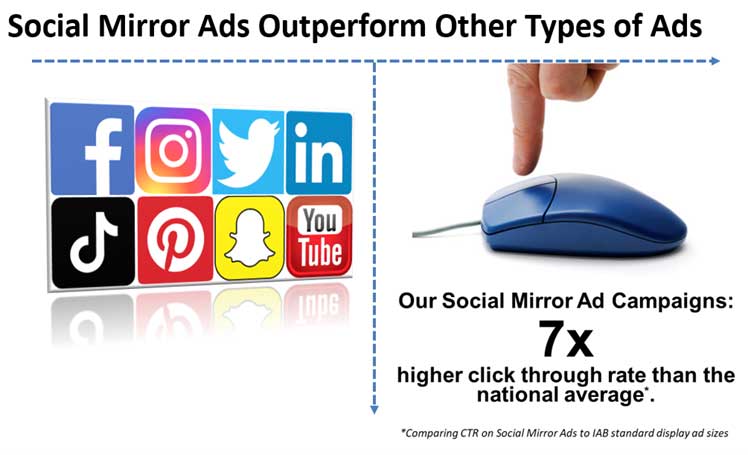 We have also found that there is little variance on the performance across the different platforms. Meaning all the different types of Social Mirror ads linking to the eight different social platforms, performed well. No one particular social platform ad/link performed any other.
As far as reporting, you won't be able to tell you how many clicks go to the social page vs their website, but you do get an overall click total for the ads.
So there you have it! It is as simple as a post looking in the mirror and seeing something even greater!
_________________________________________________________________
Author: Dana Bojcic, Vici Media – Nov 9, 2020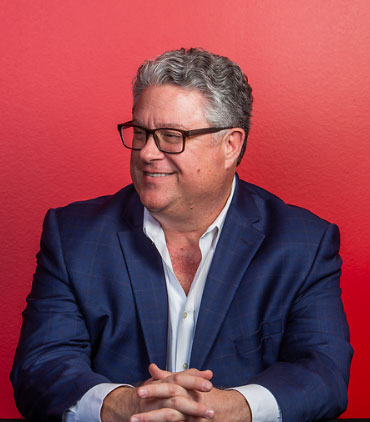 About Hallaron Advertising Agency
Mike Hallaron is founder and principal partner and has served as director of accounts at Hallaron Advertising Agency in The Woodlands, Texas since 2003. The agency works closely with clients supplying branding and advertising strategy and implementing effective, award-winning campaigns. More than just an idea shop, Hallaron is a full-service agency focused on increasing client's sales using branding, marketing, and media services.
(281) 299-0538
2002 Timberloch Place, Suite 420
The Woodlands, Texas 77380